It Makes a Difference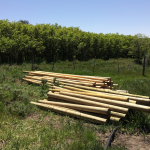 "It makes a difference to this one," said the young man as he returned a beached starfish to the sea.  We of Solutions made a small difference as well after spending 5 days in the La Sal Mountains working with the Grand Canyon Trust to preserve wilderness environments.  A wetland fouled by free range cattle, an old growth Aspen stand compromised by grazing and man's lack of understanding, both in need of our help.  If recovery is about returning to our true nature, than the path we and the planet on which we walk have common ground. What better way to experience it than to immerse oneself in the common quest of healing? Our efforts in the grand scheme may appear miniscule, but when we make a difference to just one, we claim our place on this planet.    Peace!
For more pictures of the trip please click on the picture above!
Dan Reed
Program Director
Jaywalker Solutions