Living Large in Sobriety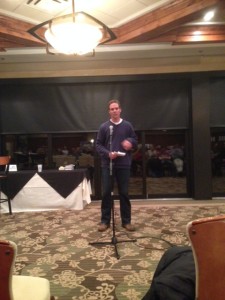 If newcomers could see no joy or fun in our existence, they wouldn't want it. We absolutely insist on enjoying life."
Enjoy life , we did!
This past weekend, 13 Jaywalker Alumni and clients joined 200 other people seeking to enjoy life in Recovery. The Harmony foundation held the 3rd Annual National Recovery Skiathon at the Beaver Run resort in Breckenridge, Colorado. The attendees enjoyed 4 days of fellowship, music, comedy, speakers, movies and spectacular snow conditions. The event included participants from treatment centers, Alumni and families, treatment professionals and a great showing from Collegiate recovery programs. Jaywalker was a proud co-sponsor with 20 other national treatment programs.
Our own, founder and CEO of Jaywalker, Bobby Ferguson, gave an incredible keynote address Saturday night sharing his vision of Living Large in Sobriety. We enjoyed great music from Nashville recording artist Sonia Lee and hilarious comedy from Kurtis Mathews. Based on the incredible fellowship and quality of the conference we are committing to bringing back our Alumni/Clients and fully supporting Next year's Skiathon.
I would like to give a special shout out to Marv and the amazing Harmony staff, the ladies from Rose House for their incredible Spaghetti and hospitality, and all the "meeting" folks who made the trip so special.
With Gratitude,
Mark Kloster
Alumni Coordinator