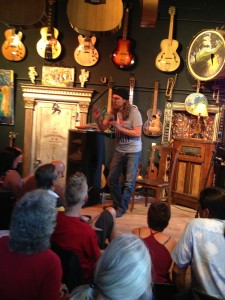 Do what we can with Passion and Love, a small act can change History" Tom Shadyac
The crowd was overflowing into the street tonight at Steve's Guitars as the Aspen Writers foundation presented a "Tomversation" with writer, director, producer Tom Shadyac. Tom is known as one of Hollywoods most prolific comedy directors. His blockbusters include Ace Ventura:Pet Detective,The Nutty Professor, Liar Liar,and Bruce Almighty, to name a few. Tonight Tom was in Carbondale to discuss his new book Life's Operating Manual which is a series of essays and dialogues which explore some of life's most challenging and empowering questions.
In 2007 Tom suffered post-concussion syndrome as a result of a biking accident. He stated that the near death experience gave him the courage to share a more personal story, first in the documentary I AM, and now in his first book. Although I have not yet read the book, I have seen the very thought provoking documentary in which Tom asks some of today's most profound thinkers, two questions – What's wrong with our world, and what can we do about it? Mr. Shadyac has done more than just ask questions in his documentary and now his book, he has put his money where his mouth is , so to speak. He has sold his Beverly Hills mansions, his private jet, and moved to a Malibu mobile home park. In addition, he has given away a large portion of his fortune to philanthropic causes, ranging from land conservation to building a homeless shelter in his hometown.
Tom was introduced as a transformed person and I believe that to be spot-on. His philosophy is now reflected in his lifestyle which he quotes Gandhi as, "Live Simply, so others my simply live". Tom stated that his religion is "Listening" which results in continuous rethinking, reevaluating, and promotes a heightened awareness. He discussed serendipity, cooperation over competition, our connectedness to all life, and most importantly, Love and Justice, not as esoteric concepts but as daily practice. His assertions definitely resonated with my new recovery thinking; the alignment of values and actions, Love and Tolerance, being willing to change my worldview, and need to connect with others. I was definitely inspired by his message of love, and belief in the human spirit.
With Gratitude,
Mark Kloster
Alumni Director