My Life has been Blessed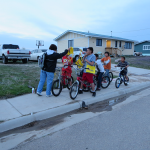 I have been anticipating the Solution's trip to Pine Ridge since the first time I heard about it.  I knew that going into a new environment could potentially be out of my comfort zone but could be a whole new experience for me. In the past, I had gone to the Cherokee reservation in North Carolina with my church so I thought the experience would be similar.
However, when I arrived at Pine Ridge I was overcome by the amount of poverty and division amongst the tribe; what I had read about could not describe what I saw.  I found myself feeling a mix of emotions for the reservation and the Lakota people. There was anger towards the history of the broken treaty and massacres, confusion as to how the People stood united, compassion towards the significant social issues (suicide, alcoholism, health issues, poverty) that they faced, and frustration as to how the future looked.
More than anything, after we left the reservation I began to feel a lot of hope. I think some of the most powerful moments for me were hearing the message of Uncle Will, the brief moment we had in the neighborhood where the fire dancers performed,  hearing the kids on the bikes talk and play, the families all coming out to watch, and the sense of community.
It is always good to be of service and to help other people and get out of myself if even for a moment. Even though we were not able to go out and help the community in a face to face manner as we planned, we had brief interactions that were filled with smiles and welcomes. Again, hope is such an important factor and it is all many of the people have.
Of the many thoughts and emotions I am left with, the reminder of hope and gratitude stand out the most to me. The people of Pine Ridge seem to be naturally resilient and have hope for the future of their children. My gratitude came from seeing that my problems are small in comparison to others. My life has been blessed.
I look forward to my return at some point because I have a strong desire to look for answers. I hope to be a future part of Pine Ridge in whatever small capacity I can.  I wish them independence and power as a tribe.
Solutions client
Mike C.