"Let Us Have Peace"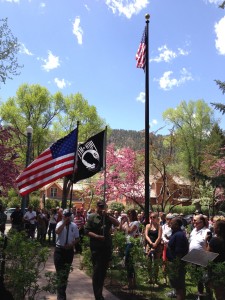 "We come, not to mourn our dead soldiers, but to praise them." – Francis Amasa Walker
It was a privilege and an honor to attend this years Memorial Day Ceremony at The Veteran's Memorial Site in Aspen, Co. I was joined by literally hundreds of Roaring Fork Valley citizens who came to remember and honor the brave men and women who gave their lives in service of this country. Several jaywalker men, alumni, and staff were present to experience a heartfelt and stirring tribute to these heroes. We learned of the ongoing effects of war on returning veterans as evidenced by the 22 black silhouette statues which represent the 22 veterans who take their own lives each day. Many of these veterans return home with Traumatic Brain injuries, Post Traumatic Stress Disorders, and are ill prepared to return to civilian life.
A new Wilderness therapy and experiential learning program will provide therapeutic healing for military veterans at the 10th Mountain Division Hut System. Huts For Vets mission is to help veterans adjust to and enjoy civilian life by gaining tools for enhancing mental, physical, spiritual and emotional health. One could not help but notice the parallels and similarities of this program to the Jaywalker Lodge Programs.
We heard the heartwarming story of A 95 year old WW II veteran who lost his whole family to the Nazi invasion of Austria yet, survived to help liberate the Dachau concentration camp. He appealed to the crowd "to save our valuable young people by striving to solve our differences through peaceful means." The beautiful ceremony, from the raising of the flag to the playing of taps was somber yet hopeful. Words cannot express the sincere and heartfelt thanks to those who have made the ultimate sacrifice in the name of patriotism, freedom, and democracy.
"A hero is one who has given his or her life to something bigger than oneself" – Joseph Campbell
With Gratitude,
Mark Kloster
Alumni Coordinator