Learning to Accept Love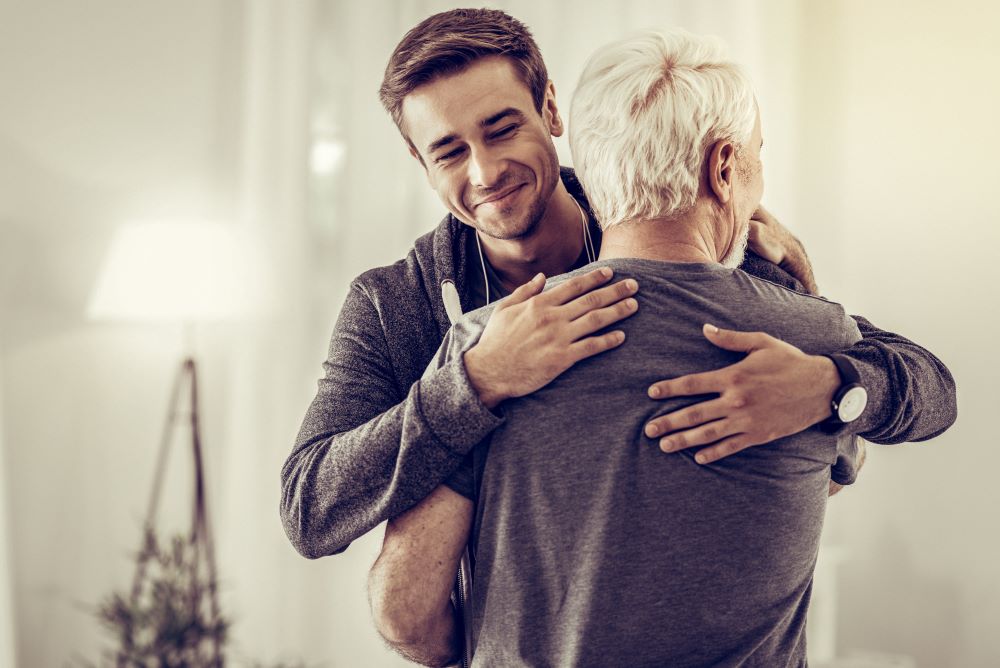 This title alone may have already made you uncomfortable, which is a common response for alcoholics and addicts. The word "love" is a complicated thing. We associate it with something we tried, but could never get right – a word that reminds us of the people we've hurt. Many of us don't recall much love involved with our past in addiction.
We certainly don't ever think about whether or not we love ourselves. Allowing ourselves to be loved seems like a silly question when we don't even feel like we deserve to be loved. The truth is good news or bad news, depending on your mindset. You deserve to be loved. Love is something that all of us have, and all of us feel.
Alcoholic or not, everyone has love to give and deserves to receive love as well. It's a huge concept and a massive feeling, and accepting love can take life-long practice. But letting yourself get comfortable with love can also be one of the most rewarding benefits of a life in recovery.
The 12-Steps Start with Love
Most of us remember our hurt – and the hurt we caused – much more vividly than we recall love in our personal history. We tend to focus on the negatives and then judge ourselves as bad people. But it's important to understand that alcoholics and addicts are not bad people, we are sick people.
We have a disease – but thankfully, that disease has a solution. It's up to us to ask for help and then take it, so we can begin to live in recovery from our disease. That first little step has a lot to do with love. Asking for help is a cry for love. Giving help is an act of love. Receiving help is practice for accepting love.
When we become involved in working the 12-Steps and staying active in a recovery community, we learn all sorts of subtle ways to give and receive love. People freely take their time to help others. They genuinely care about one another. They even learn to love themselves and how to allow others to love them as well.
Loving Yourself
Love is in much abundance in recovery, but it can still be difficult or make us feel uneasy when we are newly sober. We have to change our judgments about ourselves. We have to accept that it is okay for us to stay sober and enjoy life and that people truly want to help us. If we constantly reinforce the thought that we don't deserve love, it will be even harder to accept it.
If we constantly tell ourselves we are unloveable, we will subconsciously try to make it true. We must begin to learn how to love ourselves. You don't even have to love yourself right away. Maybe just learn how to be friends with yourself at first. Take it slow. You'll probably discover that you are a pretty likeable person.
In fact, the longer you stay sober and the more involved you become in your own recovery, the more you'll find to like about yourself. As you continue to learn and work the 12-Steps, you'll most likely start doing things for others (and occasionally yourself) that are downright loveable.
You'll eventually become so involved in the fullness of a life in recovery that you can no longer deny that people love you for good reasons. You're no longer hurting people – you're actively helping them. When you make a mistake, you take the steps to make it right. How could you not love someone who lives like that?
Love Grows in Recovery
It can certainly seem like a process to learn how to accept love, to allow it into our lives, to express and receive love from friends, family, and partners, and to feel love for ourselves. But love is a natural by-product of living a life rooted in recovery. The 12-Steps are a beautiful guide to remaining sober and thriving in a life that gets better and better as we grow closer and closer to being the person we've always wanted to be.
Love grows as we grow. Accepting love is something that we can practice every day. We can learn how to accept love from our sober community and our families. We can practice accepting love from ourselves. The more we give, the more we get – and the more we get, the more we can give.
Working the 12-Steps to save your life is an act of love for yourself. Start there. Know that we are here for you. You deserve to live a life you love, and other people deserve the love you have to give. We'll love you until you can love yourself – and after that, too.
Alcoholism and addiction can be daunting and devastating conditions to recover from alone. Most of us could not do it, and thankfully we do not have to. Taking your first steps on the road to recovery is a monumental act of love, and Jaywalker Lodge is here to help. Love yourself enough to reach out today, and we'll be here for you. Call us at (866) 529-9255.