Kick-a-thon Crushed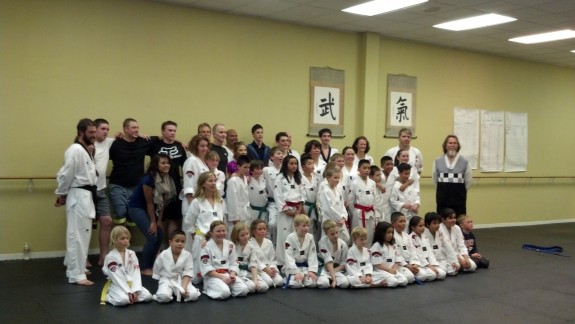 Team Solutions joined local martial artists to crush the 2nd Annual Kick-a-Thon
"Only the half mad are truly alive".
With that sentiment in mind Team Solutions undertook the arduous task of completing 10,000 kicks in a 15 min. time period at the PRO TKD Kick a Thon on Feb. 21. I am pleased to report that we easily exceeded our goal led by Cary P. who came in with 1600 kicks. Special recognition goes to Jacquie who more than held her own with the men by amassing an impressive total of 1402.
It should be noted that a world record was set by one of the PRO TKD students who tallied a staggering 1912, surpassing the previous record of 1857 set just last year. It was wonderful to see how our group was welcomed by the regular members of the PRO TKD studio and how impressed they were with our efforts. Everyone stepped up and pushed themselves to their maximum, encouraged by others they had never met before.
Of course the real winners here are those who will be able to utilize the money secured by this fundraiser which will be used to promote the competition team and provide scholarships. The Jaywalker family was able to contribute over $600 to this cause and 8th degree black belt Master Doug Fuschell was obviously very grateful to us. In the words of past President George W. Bush, "Mission Accomplished". Only difference is, this time it actually was.
– Dan Reed, Solutions Program Director