JWU Thanksgiving Eve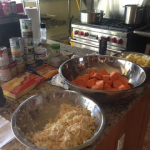 Today the Jaywalker U students are preparing for Thanksgiving Dinner tomorrow. Half of the students have made it home for the holidays while the other half will be spending Thanksgiving with one of the students families. The students are responsible for bringing all of the sides for Thanksgiving Dinner. So far we have: mashed potatoes, sweet potato marshmallow mash, sweet corn soufflé, cornbread, and green bean casserole. Chef Brian's cooking classes are really coming in handy this holiday season!
We are in the spirit of Thanksgiving and are remembering everything that we are thankful for this year.
Donnie Hagenbart
Program Coordinator
Jaywalker U