JWU Recognition Ceremony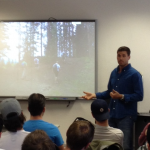 The Coordinator of Jaywalker U, Donnie Hagenbart, took the lead last Friday at the Jaywalker U Recognition Ceremony by welcoming the Lodge clients and then telling his story of transformation which became the impetus for transformational workshops at Jaywalker U.  While pictures of workshops and spring breaks scrolled across the screen, Donnie inspired us to become willing to be our best, the basis of what he has learned from Transformational Coach, Johann Aberger.  Next, the Jaywalker U students who have been with Johann throughout the semester talked about their own experiences and what they have learned about themselves.
Finally, Johann spent some time motivating, teaching, asking, showing, and encouraging everyone to reach for their highest good and their highest potential.
Janet DeMars
Program Director
Jaywalker U