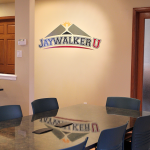 JAYWALKER U LUNCHEON
TUESDAY, NOVEMBER 12TH
12:30-1:30 at JWU
Interested in going back to school?
Want a sober collegiate experience?
JWU will be having a free luncheon for anyone interested in learning more about the JWU Program.  Pizza will be served. Janet DeMars, Director of JWU,Craig Farnum, Academic Advisor from CMC, and Current JWU Clients and Alumni JWU Clients will be there to talk and answer any questions you may have. This should be a great and informative opportunity, so plan on attending!