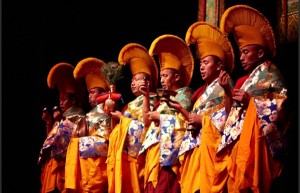 The Roaring Fork Valley and Carbondale were fortunate to host the visiting Monks from the Gaden Shartse Monastery of Tibet this week. Eight Jaywalker Lodge men and myself attended the " Sights and Sounds of Monastic Life" presentation Tuesday night at the Third St. Center. The evening included sacred music, chanting, slide show and question and answer session.
The Tibetans were forced to flee their homeland in Tibet in 1959 by the invasion of China. The Chinese Cultural Revolution took the lives of more than 1.2 million Tibetans and 6000 centers of culture and religion were destroyed. Tibetans continue to this day to seek refuge across the Globe. India offered Tibetans a safe place to live and keep their culture intact. In 1970 the Gaden Shartse Monastery was formed by 85 refugee Monks near the remote village of Mundgod in south India. The Monastery has established itself as a leader in the field of Buddhist and Tibetan studies. Today, There are more than 1600 resident students, teachers, scholars, and spiritual practitioners.
We enjoyed a Purification and Beautification Blessing accompanied by Multi-phonic chanting and traditional Tibetan Musical instruments. We learned that the longest prayer takes 13 hours to recite and monks can complete up to 100,000 prostrations during their training. The monks can begin their training as early as 4 years old and can reside at the Monastery until their death. The younger students are responsible for taking care of their senior peers. It can take up to 15 years to memorize all the sacred texts and prayers. There are 253 vows which the monks commit to uphold.
We found many of their teachings to be compatible with our concepts in recovery; spirituality, mindfulness, patience, compassion , and discipline. The sense of community and service to others and the greater good are essentials to the Buddhist philosophy and important to us as we walk the road of Recovery.
With Gratitude,
Mark Kloster