Jaywalkers Renew Passion for the Links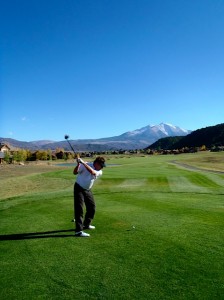 Jaywalkers Sweep RVR Club Championship "
Having stepped away from competitive golf for the last five years of my life. I was extremely excited and slightly nervous when Jaywalker presented myself and three other Jaywalkers with the opportunity to play in the River Valley Ranch Club Championship. This event would consist of two rounds of golf with prizes being awarded for both the low gross and low net scores. Setting relatively high expectations for myself, I made every attempt to ready my game for the tournament. I had played solid golf in the weeks leading up to the tournament and was ready see what I could do against a competitive field.
Somewhat unexpectedly, the only real competition I faced all weekend was from other Jaywalkers and Steve B., the head of Jaywalkers golf program. A round of 73 on the first day, my best round in four years, left me tied for first in the gross category and leading the net by one. The excitement and nervous energy of leading a golf tournament overnight was not something I had experienced in many years, and I did not handle the pressure particularly well. Waking up at 6 Sunday morning I preceded to hit an early AA meeting and nervously pace until it was time to hit the course.
However, once the golf started Sunday afternoon I found myself in a zone. Battling back and forth with fellow Jaywalker Greg K., I stood even par and one up through 14 holes. Sadly, that was the last I would see of my lead. Greg drained a long birdie putt on 15 while I limped home with an unprecedented four putt. I never challenged the lead after that, but managed to shoot a respectable round of 75. With my 7 handicap, my two-day total of 148, 134 net, was low enough to secure a one shot victory in the net category and a second place finish in the gross. Cemented with the birdie on 15, Greg K. easily took the gross by 3 shots. Steve B., ever lurking, managed to take third in the gross making for a Jaywalker sweep.
The trophy and brand new putter I won at the tournament's conclusion were extremely nice souvenirs from a great weekend. However, what I really gained at the RVR Club Championship was a newfound confidence and love of a game I had all but abandoned. Sitting around the clubhouse Sunday afternoon it was hard to find a Jaywalker without a smile on his face. I just hope RVR allows Jaywalker back for next year's tournament; maybe we could give the members a few shots to keep things competitive.
Magnus G.
Jaywalker Lodge