Jaywalker U Website Launch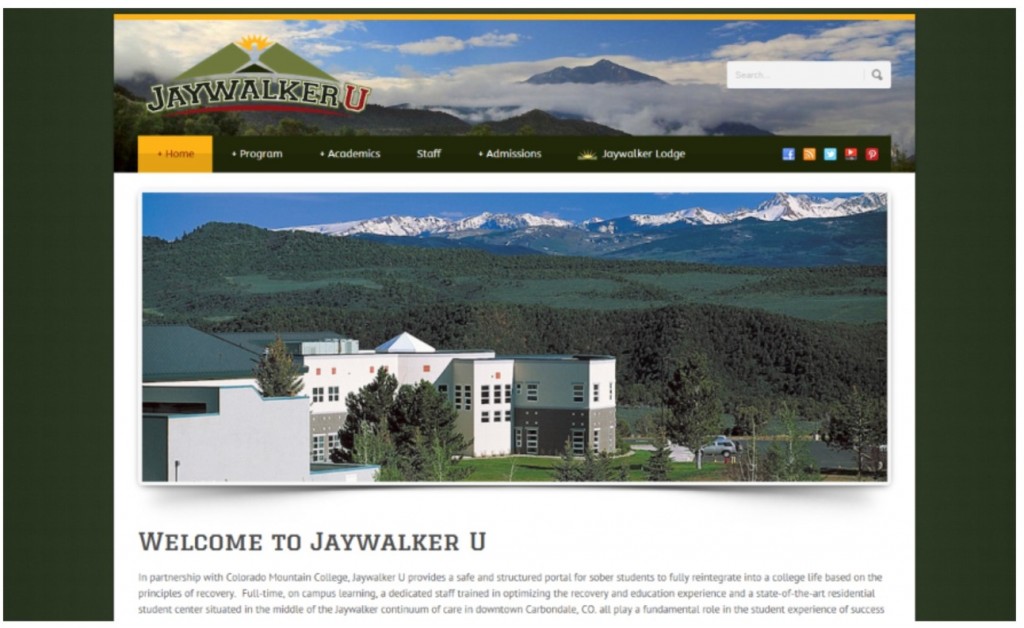 Jaywalker U Website Launch
The new Jaywalker U website is now online.   Jaywalker Lodge is now partnering with Colorado Mountain College (CMC) to offer men in recovery a collegiate community to support their sobriety, as well as their academics – we call it, Jaywalker U. We have created a residential Student Center for students with documented sobriety wanting to further their education. Designed as part of a longer Jaywalker continuum, Jaywalker U is also available to other sober students looking to match education with a vibrant and active recovery community.  Full-time, on campus learning, a dedicated staff trained in optimizing the recovery and education experience and a state-of-the-art residential student center situated in the middle of the Jaywalker continuum of care in downtown Carbondale, CO. all play a fundamental role in the student experience of success in sobriety.   We believe that educational success early in recovery helps reinforce sobriety and recovery principles.
Colorado Mountain College is our educational partner.  A Community College right here in the Rockies that offers a handful of 4-year degrees as well, CMC has been the ideal complement to a group of men working their way back into main stream education.  CMC has dedicated a guidance counselor to us as the liaison between Jaywalker U, our men, and the College.  CMC has been instrumental in illuminating a clear portal back to school through transcript acquisition, schedule building and ongoing academic support. Jaywalker is now the main resource on campus for any issues and training related to alcohol and drug abuse. Our Jaywalker U Program Director, Janet DeMars is available to help with prevention, education and intervention on campus as needed. The relationship has been solid and rooted in the common mission of each organization to give non-traditional students a chance to succeed in college.
Click HERE to visit the new Jaywalker U Website.
Patrick Shaffer
Marketing Manager
Jaywalker Lodge