Jaywalker Programs: The Landing and the Lodge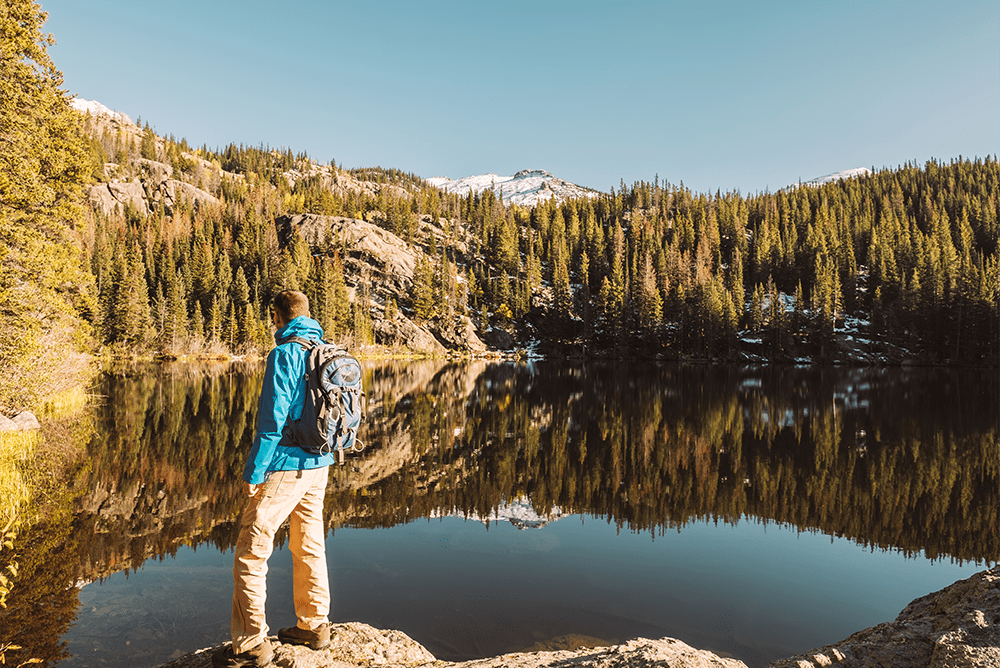 Jaywalker Lodge is a special place. Perhaps we're a little biased, but years of experience and personal understanding of recovery have helped us grow into a place that's different in a lot of really helpful ways. At Jaywalker Lodge, our passion and sole purpose are to help men find lasting, long-term recovery. It's a cause that we believe in with all our hearts. This may be due in part to the fact that many of us know about recovery first-hand from our own lives. We aren't just here to help you find recovery, we've found it ourselves. So beyond the knowledge and expertise of addiction recovery and treatment from a professional perspective, we have a personal understanding of it as well.
Now, of course, we have a multi-disciplinary staff of professionals and we have our years of hands-on experience in recovery. This all comes together to guide everything about Jaywalker Lodge with professionalism, cutting-edge clinical knowledge, and a whole lot of heart. This unique mixture not only guides us but shapes all the programs we offer here at Jaywalker Lodge. We want to be there with you every step of the way. In recovery, none of us ever go it alone. We need each other every day, and we need help just like everybody else.
This is exactly why Jaywalker is structured the way it is. You're not alone anymore, and you never have to be. Recovery is a second chance at life for all of us, and we're going to do our best to make sure you have the right foundation to support your recovery for the long term. Everything that goes on at Jaywalker Lodge happens for a reason. It's all painstakingly curated to be the most helpful, immersive, exciting, and effective start to recovery that we can possibly offer. Basically, we are the recovery program we wish we'd had when we first found the 12-Steps.
Who Is Jaywalker?
Well, a lot of us are Jaywalkers, especially those who find recovery but can't make it stick no matter how badly we want to. That was us at first, and it's why we specialize in helping men who've slipped or stumbled repeatedly. If you're not sure if you're a Jaywalker, read the story on page 37 of the book Alcoholics Anonymous. Sound like you? It was us, too. It's still us, except we're happy and free in an amazing life, based in recovery. And we want you to join us!
Who is us? We're Jaywalker Lodge. We're an expert and professional staff of addiction recovery specialists. We offer therapy, 12-Step-centered recovery treatments, outdoor adventures, and a thriving recovery community. Essentially, what we offer is a purposefully designed approach to achieving lasting and long-term recovery, no matter what your previous struggles have been. We believe in the solution, and we know it really works. We believe that recovery is possible for anyone who is honest, open-minded, and willing. And we believe that treatment is not a consequence of our past lives in the disease, but instead, it is the real possibility of a bright and beautiful future in recovery. That's who we are. Read on to find out more.
The Landing
The Landing is exactly what it sounds like, the first step into the Jaywalker world. Most of those new to Jaywalker Lodge spend some time here. There's plenty of recreation and activity going on as those who are new to us get acclimated to and acquainted with this beautiful area. Here is where we'll get to know each other. You'll see the amazing natural scenery and get to enjoy it for yourself. The outdoor recreation possibilities are pretty much endless here. You'll also get familiar with the larger Jaywalker community and see how things go on here. At the same time, we'll be getting to know you and building an individualized, personalized pathway to success for you.
The Lodge
The Jaywalker Lodge is our core, our heart and soul. It's immersive, it's intense, it's magnificent, it's meaningful, it's rigorous, it's fun, it's profound, and it's home, at least for a while. The Lodge is more structured and curriculum-driven because this is where we get into the heart of recovery. We're going to focus on the 12-Steps, particularly the 1st-Step which is the biggest deal for our recovery. We're going to go on expeditions, share meals, and participate in group therapies and meetings. We're going to help each other, push each other, and support each other. And then we're going to take all the wonderful stuff that happens at the Lodge and we're going to serve the community together.
The Landing is where you're welcomed to the Jaywalker community. The Lodge is where you become a full-fledged member of the Jaywalker community, and we're so happy to have you. The community that surrounds Jaywalker Lodge was built within its walls. So many who come to us stay because this community and this environment are one of a kind. Those of us in the Lodge and past alumni share more than just the Jaywalker experience. We share meals, meetings, recovery experiences, life experiences, adventure, recreation, and some incredible community service.
We welcome you to Jaywalker Lodge because we believe everyone who seeks recovery deserves to live a life beyond their wildest dreams — a life full of growth, joy, meaning, purpose, love, community, support, and service.
Jaywalker Lodge is like no other place for a lot of reasons. We're not only talking about being a short drive from Aspen — although trust us, we spend plenty of time in the Rocky Mountains! As amazing as our mountain community is, it's nothing compared to the living we do as a community of happily recovering people. We get to grow as close as family and make a visible difference in the community around us, and we do it together. Nothing compares to that. We live the 12-Steps and the 12-Step recovery lifestyle, and it allows us to experience a life we never could have imagined before. If you're a man who suffers from alcoholism or addiction, we believe that we can help you as long as you're ready to be honest, open-minded, and willing to work the program. If you can do that, we've got the rest covered to give you the best possible start to a lifetime in recovery. Call us now at (866) 529-9255.