Jaywalker Lodge: Why Horses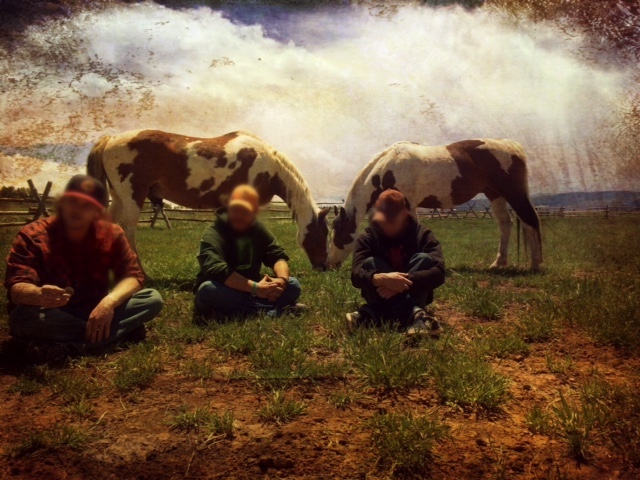 WHY HORSES
"Horses have been an integral part of the human experience since their domestication more than 5,000 years ago. They have shouldered our burdens, shared our history and shaped our mythology. There is a long-standing connection between humans and horses and how they have impacted our lives." ~Linda Kohanov, Eponaquest Founder and Author
As an Equine Facilitated Psychotherapist (EAP) and Equine Facilitated Learning instructor (EFL), I have been fortunate to bring my work and this amazing experiential process, to the men at Jaywalker Lodge. It has been a gift and privilege to witness how the power of the herd-and the authentic reflections they bring-impact the men we work with, who are healing from the ravages of alcoholism and addiction.
As awareness surfaces within the equine experiential setting, the horses present opportunities for participants to work through unconscious patterns, metaphors and ways of relating; toward integration, personal growth and healing. The Creative Awakenings with Horses program at Jaywalker, offers unique opportunities for clients and organizations to experience this powerful and unique healing modality.
As an Eponaquest Instructor, I bring the experiences of addiction, with the wisdom and power of horses. Through the power of horse wisdom and holistic practices such as body scanning, mindfulness, creative expression, equine facilitated coaching supports our clients in deepening their relationship themselves and connecting with a live bio-feedback machine to access true emotion. The horse as muse and mentor supports our clients in to uncovering powerful metaphors for life and relationships, deepening their connection to true authentic spirit.
This work is appropriate for individuals or groups and anyone seeking to experience increased connection to authentic ways of being and healthier relationships with others. Working with the horse as partner, builds self-esteem, trust, confidence and connection bringing forth an inner leader.  Working with the herd and animals on the ranch, also supports Post Traumatic Stress and emotional agility, offering feelings of relaxation, stability and relief from chronic stress. If you would like to read more about the benefits of this work for Post Traumatic Stress disorder, attached to this blog is a PDF, a  study from the Under Secretary of Defense, on the benefits of "Equine Therapy to Treat Members of the Armed Forces."
These sessions support our men to feel positive about the possibilities during their life in treatment, and their futures, as men in recovery.
EQUINE THERAPY WILL:
Enhance skills as a natural leader
Help clients understand emotion as information
Supports clients to access a more authentic, creative presence
Recognize and move beyond conditioned behaviors and thought patterns
Set Boundaries: establishing and maintaining clear and consistent personal space
Body Scan: using the body as a sensing device
Hands-on activities with horses as guides
Developing essential skills for building Authentic Community
Support clients in learning new ways of relating to yourself and others
Build confidence and self-esteem