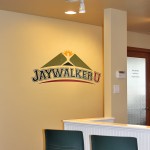 Carolyn Gregoire wrote an article in The Third Metric of the Huffington Post (1/30/14), espousing the values of a humanities education. She included some interesting quotes which alluded to:
Not worrying about post college when you enter college
That money is a bad way to measure the value of a college major, and
Even more important, that college students should be encouraged to study something for which they have a natural talent.
There exists a stereotype called the broke-unemployed-humanities-major, but proponents of the humanities claim that "career-specific skills can often be learned on the job, whereas critical thinking and problem-solving skills are invaluable benefits of a humanities education" (The Third Metric, Huffington Post, 1/30/14).  I thought I would challenge the stereotype by listing the names and area of study of some very successful humanities majors.
Conan O'Brien, History and American Literature
Ted Turner, Classics
Mitt Romney, English
J.K. Rowling, French and Classics
Steven Spielberg, English
Jon Stewart, Psychology
Stewart Butterfield, Philosophy
AND our own, Bob Ferguson, CEO and founder of Jaywalker, Theatre
Janet DeMars
Program Director
Jaywalker U