Mission : Wolf – Education vs. Extinction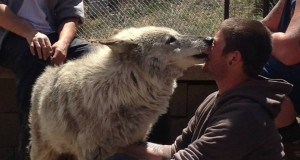 It was a humbling experience to be snout-to-snout with an animal that could literally rip my face off."
With the smell of campfire fading from my clothes and having caught up on some much-needed sleep, I've finally had the chance to reflect on last week's expedition to Mission Wolf. As a recent hire, this was my first expedition with the Jaywalkers and the experience validated every reason why I wanted to work here. After all, who else gets PAID to camp at a wolf sanctuary? That said, as a new employee, I found myself battling my own perfectionism, wanting everything to go off without a hitch. But then life happened.
Before we even got out of the Valley, a 'packing malfunction' necessitated an unplanned detour nearly all the way back to Jaywalker. Upon arrival at Mission Wolf, gusting winds made setting up tents nearly impossible and actually snapped the poles on one. Even weighted down with the largest rocks available, the tents were no match against the powerful gusts and several times, flattened domiciles had to be resuscitated. On the third day of the trip, a pregnant alpaca threw a wrench in our plans (a story in itself) and caused us to halt construction of a chain link fence we had hoped to finish and while we had hoped to complete the fence the following morning, a couple Jaywalkers were feeling ill and we instead packed up camp and left early, leaving the fence uncompleted. In short, the trip was a resounding failure.
Or was it?
Now for the real story: Yes, conditions were poor for camping. No, we did not finish the fence project we had hoped to complete. Through it all, however, the Jaywalkers demonstrated their ability to temper their expectations with flexibility, their frustration with acceptance, and most importantly, to make the best of any situation. The guys worked unbelievably well as a team, with natural leaders and problem solvers emerging along the way. Over the course of our few days at Mission Wolf, we built the better part of a fence (which involved carrying approximately 2,000lb of chain link about 1/4 mile up a steep, wooded hillside), surveyed the site of a yet-to-be-built barn, and butchered a horse (exactly what it sounds like…wolves gotta eat), and while not everyone participated (understandably) in processing the horse, the guys who did had no problems getting their hands dirty. Or in this case, very, very bloody. And even though guys were understandably frustrated when the pregnant alpaca derailed the rest of an afternoon's plans, they were able to let it go and enjoy an afternoon of bowling instead. At the end of each day, we all gathered together around the campfire, cooked s'mores, and enjoyed epic conversations brimming with laughter and recovery.
And then there were the wolves themselves. It was a humbling experience to be snout-to-snout with an animal that could literally rip my face off. But as impressive as the wolves were, the true experience of the week lay in this motley crew of addicts and alcoholics known as Jaywalkers, demonstrating resilience and acceptance, and coming together as a team to accomplish feats that none of them could've on their own. This is what recovery looks like and I for one can't wait to get out and do it all again.
Patrick Young
Lodge Program Counselor