Hoop Dreams with Chris Herren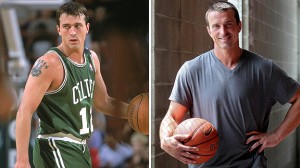 Sober or Not, it's hard to always feel worthy."
Former NBA player Chris Herren, who celebrated 5 years sober on August 1st
I had been vaguely aware of Chris Herren's story, but not until I read a recently published story interviewing him on how his life has changed in his 5 years sober, did I begin to realize what a truly inspirational journey Chris has taken. That journey has been filled with triumph and tragedy and most recently a tale of renewal and redemption. I gained a little more insight from a Jaywalker alum who had the opportunity to hear Chris tell his story at a local Jail a year ago. Danny S. related that " his story was crazy, I mean i've heard a fair amount of addict stories but, his was over the top. It was also heartfelt and inspiring and I still remember it." Today, Chris spends his days being of service to others. First and foremost to his wife, children, and family but also to those struggling with addiction and their families. In 2009 Chris launched Hoop Dreams, a basketball player development company which provides superior basketball training through clinics and camps. In addition, Chris founded the Herren Project, that assists individuals and families struggling with addiction. Chris has also written a autobiography entitled Basketball Junkie: A Memoir, documenting his career on and off the court. In 2011, ESPN aired the documentary, Unguarded, based upon Herren's basketball career and drug related issues. Chris now shares his experience strength and hope through hundreds of speaking engagements each year.
My biggest takeaway from reading and researching The Chris Herren story is that Chris is living a Program of Recovery in which his sobriety and service to others is his priority. Chris has regained the love and support of his family who he acknowledges suffered tremendously through his addiction. Recovery and Humility have allowed Chris to become the father, husband, and the man he has always wanted to be. A quote from Chris's wife, Heather sums it up nicely;
When you do the right thing and you are honest and you are being true to yourself and to your family, there can be great things that come with it, and I'm just thankful every day that we've been able to see the other side of it."
Congratulations Chris on 5 years and thanks for carrying the message !
Links : FoxSports article, Chris Herrens five-year redemption
The Herren Project
With Gratitude,
Mark Kloster
Alumni Coordinator