Holiday Party Time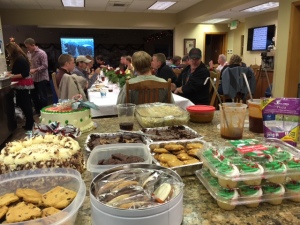 The "ugly" christmas sweaters were out and the "white elephant" gift exchange was on as we celebrated the Holiday season here at Jaywalker Lodge. We started the party with a wonderful feast including, entrees from Smoke BBQ, Penny's soon to be famous Mac n' Cheese, several delicacies from Chef Brian, and Rocky's decadent carrot cake.
My vintage "save the ducks" sweater lost a close contest to Patrick's axe wielding gnome in the ugly sweater contest…go figure. Everyone walked away with raffle prizes, Boomerang mugs, and an abundance of holiday cheer.
Bobby presented his famous slide show featuring an unusual number of shirtless men, who won't be named. In addition, many beautiful pictures of the men and women of Jaywalker and the memories created over this last incredible year.
The highlight of the afternoon were the heartfelt personal tributes shared by many in honor of Jaywalker's preeminent counselor, Kim Nuzzo, who will be retiring at the end of the year. Kim, has been a integral part of the successful evolution of Jaywalker over the last 9 years. Although Kim will be leaving Jaywalker, his presence and influence will be felt for many years to come. We are all truly blessed.
With Gratitude,
Mark Kloster
Alumni Coordinator