HAPPY FATHER'S DAY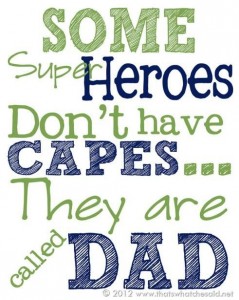 Today, I Choose Life !
In the depths of our disease we wrongly assume the only person we are hurting is ourselves. Just one of the many fallacies of addiction. In truth, we hurt the ones we love and those who love us the most, and the deepest! Our families suffer unbelievable pain and suffering as they struggle to understand the disease which has taken their loved one from them. Even in our attempts to isolate and remove ourselves physically from our loved ones, we emotionally injure them through our absence in their lives. Only through treatment and a commitment to a life in Recovery have I been able to understand the damage and pain I caused my family and those around me.
For many in Recovery, including me, holidays such as Father's Day can be an emotional roller coaster. With our newfound clarity to see things as they really are, it can be sad and painful to remember the suffering we caused to those we love so much. On the other hand, The new Design for Living we have embraced has given us the tools and courage to make amends and attempt to rebuild those relationships we assumed were beyond repair. Life in Recovery is full of possibilities and opportunities not only for rebuilding damaged relationships but, the promise of new and lasting relationships built on honesty, integrity, and trust.
Today, I have the choice to live in Love, Forgiveness, and Hope. I am eternally grateful for the miracles and gifts I have received as a direct result of a life in sobriety. Today, I was able to call my father and express my love to him and thank him for always being there for me. Today, I was able have a Father's day brunch with two of my children, and many others in my family. I have not forgotten my past, but have learned from it and hopefully my experiences will allow me to help another struggling addict or alcoholic, through grace, find and embrace a life in recovery.
My children and family were the reason I went to Treatment. Today, I choose to live a life in Recovery because of the the endless possibilities and joy life has to offer. As a result of that choice, I have found happiness beyond what I imagined was possible.No, life is not perfect, but because of this program of Recovery I have the opportunity to be the father, son, brother, and friend I have only dreamt of being! Today, my heart is filled with Gratitude and Unconditional Love for those in my life and those yet to come.
Mark Kloster
Alumni Coordinator