Happy Birthday Steve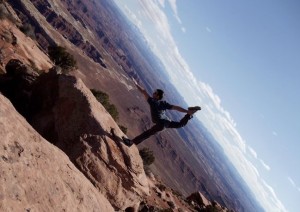 At Jaywalker Lodge we believe the first 24 hours of a clients stay are invaluable.  It is during that time that each client begins the process of putting down roots and establishing relationships that will last months and hopefully years into the future.  Rarely has a client been subjected to a more tumultuous first 24 hours than our own "Hot Yoga" Steve.
Picture one part "Apocalypse Now" and one part "Lord of the Flies" set not in the jungle or on an island,  but rather in a semi-insane 16 hour van ride fading to a pitch black horse pasture campsite smack dab in the middle of one of the most poverty stricken locations in America.  Yeah that's a good recipe for success right?
Well, for Steve it was the perfect introduction to Jaywalker Lodge.   I mean if he could survive the ticks, Mooney running around shirtless, a dude eating raw liquefied chicken, digging a new outhouse hole and the infamous Camp Red Bull, living a life of sobriety should be no big deal.   Somehow Steve survived the adversity of that trip and is now celebrating 4 years of sober life!
One of the unique "consequences" of guys completing their time here at the Lodge is the opportunity to try new activities and begin to incorporate these into their new lives.  We offer such variety that these opportunities are nearly limitless.   Transformation is there for the taking if the client just says to himself "I will try".
We half jokingly say things like; "mountain biking saves lives" (definitely) or "rock climbing saves lives" (questionable), but for Steve, the life transforming activity was/is Bikram Yoga.  He began his practice while a client and has since become a licensed instructor.  For the past 16 months Steve has taught Bikram classes twice weekly to current Lodge clients.  The transformational gift he was given through Bikram is now being re-gifted to each of us participating in his classes, thus proving that re-gifting isn't always a bad thing.  I know I won't ever be able to get the phrase, "way back, more back, fall back" out of my head.
Steve,  we've had some great experiences starting with Pine Ridge, to climbing the Mitten Slab, to Ancient Art and first ascents on Indy Pass.  I appreciate all that you have brought to my life and lives of so many during the past 4 years.  I'm just thankful that those boys in Camp Red Bull weren't able to lasso a cow to sacrifice in front of that giant bonfire.  Happy 4 years and keep it going for at least 40 more.
Lynn Sanson
Expedition Director