Happy Birthday Nat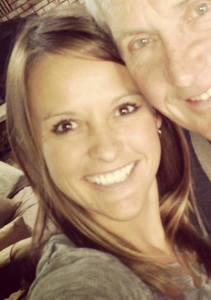 Natalyn Cumings – Manager of Human Resources and Client Billing – just celebrated her Birthday! One of the first pictures I saw of Natalyn, before actually meeting her, was of her doing a flip on a trampoline. She was mid-air when the camera caught her image, soaring high, living her life. It brought back memories of my younger days, jumping on trampolines, laughing, and letting myself go and just enjoy the moment. I remember thinking how fun she must be, almost hearing her laughter as I looked at the picture. Well, I was right. I've known Natalyn for a year and a half now and through that time I have watched her not only embrace life, but grab it by the horns and live it. She gives her all no matter what she is doing; whether it's work, yoga, running, family, friends – she puts her heart into all of it. She's fiercely proud of her family and those closest to her – and has every right to be – as they are of her. I've had the pleasure of meeting those closest to Natalyn, have seen the many pictures and videos of her nieces and nephews, have seen them tumble about on her living room floor, heard their laughter, seen their smiles and heard of their achievements.   She has opened her life up to me and it has meant the world.
She attended Chadron State College in Nebraska on a full ride basketball scholarship and went on to obtain her MBA in Human Resources in Connecticut. Basketball and HR may seem to many of us as different ends of the spectrum, but I see the skills both need: leadership, quick thinking, accuracy and drive. Natalyn is an essential part in Jaywalker being a happy and healthy work environment. Not only is she part of the "team" that hires our employees, but she has an open door policy for any one of us, who may have a problem or just want to talk, whether an employee or client. She competes locally and on the front range in many races, she's on the Co-ed Jaywalker softball team, enjoys spending time at her family's cabin, doesn't really like sweets, but loves the Broncos and being outside. She's my co-worker, my supervisor and my friend.
Natalyn, you inspire me daily to be better, to live fully, to laugh more. You are one of my greatest cheerleaders as I am yours. Happy Birthday my friend. May this year be filled with much love, growth and prosperity!
Penny Brown
Administrative Coordinator
Jaywalker Lodge
Penny Brown