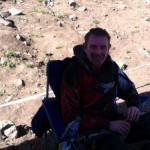 Mike Goerne is celebrating his belly button birthday today. Mike is originally from Minnesota but truly embraces the active lifestyle of Colorado. Mike's love of Lacrosse, cross-fit and dirt bikes keep him very busy when he isn't at Jaywalker. He gives back to our community in many ways especially coaching Lacrosse and hockey.  In fact, this year the Aspen high school boys Lacrosse team made it to the final four in state with almost all of the players returning next year. I wouldn't be surprised if they bring home the championship next season. Mike has been here since the start of Jaywalker and has worked harder than we know to ensure it's success. In all that you do Mike, we see hard work, loyalty and dedication, whether it's your personal life or business. Happy birthday Mike and enjoy your day.
Hard work spotlights the Character of people; some turn up their sleeves, some turn up their noses and some don't turn up at all.
YOU DEFINITELY TURN YOUR SLEEVES UP MIKE. THANKS FOR ALL YOU DO.
Penny Brown
Administrative Coordinator
Jaywalker Lodge