Happy Birthday Kort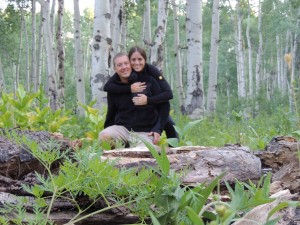 Yesterday, Kortney Shaffer, aka Kortney Hartman, Operations Manager, celebrated her Birthday.  This year has been a full one for Kortney, especially these last few months.  Along with her many day to day tasks as Operations Manager, she was given the task of overseeing the new Boomerang Coffee Shop that Jaywalker recently purchased.  Working side by side with Adam Mink to get everything up and running, she planned a wonderful Grand Re-opening and nailed all of it.  Now, as if that wasn't enough to make anyone a little stressed, throw in the fact that she is also planning and organizing every detail to our upcoming Annual Serenity Scramble in two months, was planning her wedding, which was last weekend, buying their first home and now celebrating her birthday.   Through it all, Kortney did it with amazing grace, style and perfection, as only she could.
Kortney is much more than all of this though.  She's a true outdoor enthusiast, she loves Colorado, Crossfit, her family and friends.   She's funny, loyal, kind and embodies all that a STRONG WOMAN is.   I've gotten to know her much better and enjoy the times I get to talk with her and learn more of who she is as a person.   I'm so happy I can call her my friend.   Kortney, you accomplish so much here at Jaywalker, but the woman you are, your goals, your strength, your compassion, your commitment, is what makes us all love you.
Happy Birthday Kort!   May this year continue to bless you!
"There's a difference between interest and commitment.  When you are interested in doing something, you do it only when it's convenient.  When you are committed to something, you except no excuses, only Results."
Penny Brown
Administrative Coordinator
Jaywalker Lodge