This is not Goodbye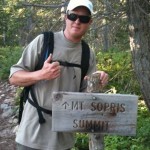 On Friday, February 21st, members of the Jaywalker Community said goodbye to Joe Tate with a going away party and barbeque that was held at the Pew estate in Carbondale. The high class soiree was attended by a multitude of Joe's friends and co-workers and a fun time was had by all. I did the cooking. The food was excellent.
Joe is leaving us this week for Eagle to support his lovely girlfriend, Stacy, as she pursues a career in the financial industry. As one of the first Landing techs, Joe helped the program get off to a successful start. His kind and approachable demeanor, as well as his high recovery IQ, aided many clients in making their transition.
Joe is also a very active member in the alumni community and is the captain of current and defending Serenity Scramble golf tournament championship team.  Joe was able to accomplish this feat by immediately assessing every new client's golf skill upon their intake in order to form a team of all-stars. Needless to say, Steve Buchanan was shamed as his team fell in defeat. All who witnessed Joe and his team revel in their victory were thoroughly annoyed.
Joe's work at jaywalker Lodge was appreciated by both staff and clients alike. He will surely be missed. Good luck Joe! You're a great guy and we love you!
Alex Colins
Residential Technician
Jaywalker Lodge