Going Away Party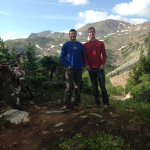 Yesterday we said goodbye to a dear friend and wonderful employee, Greg Benton, with a chicken salad cake party. Donnie did not come to the party and Greg was pissed to say the least. Greg was quoted as saying, "Donnie is supposed to be my friend, but I guess it's whatever man. I see how it is."
Every one managed to have a great time, despite Donnie's absence, and Greg truly felt loved by the Jaywalker community, except for Donnie.
Greg is leaving to spend the summer with his family in Vermont and New Jersey. He will be returning to the area in the fall for one final semester at CMC, and then, it's most likely off to Boulder to attend CU. We will be having a welcome back party for Greg in September, followed by another going away party in December when he leaves for CU.
Greg is a Jaywalker Lodge alum, and has been a Jaywalker employee for almost two years. Greg's intelligence, great work ethic, and winning personality have resulted in him becoming an integral part of the day to day operations of this facility throughout his time here. He can also really dance! Believe me when I tell you, his moves are the best in the world!
Alex Colins
Residential Manager
Jaywalker Lodge