Goals & Accountability Group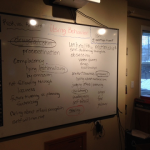 Every week the men of Jaywalker U engage in a group to address personal goals that they have set and tracked during the previous week. Recovery principles ask us to participate in each others recovery by being supportive. This group provides a safe place for the men to ask for help in both setting and reaching these goals, and they do it together, as a team.  The discipline of doing this work regularly can translate well past college and into a lifelong habit that creates possibility in many different aspects of life in recovery.
This weeks Goals & Accountability Group was focused on using behaviors and how to recognize and combat them. Each student was asked to identify what behaviors they see in themselves. By identifying these behaviors as a group, the students were then able to look to each other for guidance. Students then set goals around these behaviors and count on the group to help them stay on track. Just another tool the Jaywalker U students are using to better their recovery.
Donnie Hagenbart
Program Coordinator
Jaywalker U