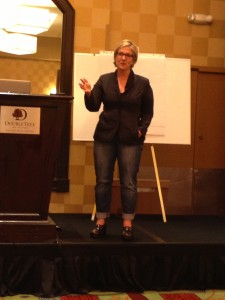 Owning our story can be hard but not nearly as difficult as spending our lives running from it. Embracing our vulnerabilities is risky but not nearly as dangerous as giving up on love, belonging and joy – the experiences that make us the most vulnerable. Only when we are brave enough to explore the darkness will we discover the infinite power of our light." Brene Brown
This weekend, the Center for Dependency, Addiction, and Rehabilitation (CeDAR) at he University of Colorado Hospital presented the third annual Gender Matters conference in Denver. the conference and its speakers discussed the evolving trend of gender-specific treatment services – not simpily offering separate facilities, but using knowledge about men's and women's psychological development and their experiences of trauma and recovery to guide clinical services and curriculum. TED talk phenomenon Brene Brown shared on shame and vunerabilitity and the need Dare Greatly to enter the arena of life. Dan Griffin, author of A mans way through the 12 steps, presented on the importance of identifying and addressing trauma issues in men's recovery. Other speakers shared on topics of women's trauma, eating disorders, LGBTQ issues and sex addiction.
Jaywalker lodge brought eight of its current clients to experience a couple of days of the conference. The men enjoyed a special dramatic reading of the hit off broadway play Bill W. and Dr. Bob on thursday evening and Friday mornings lineup of presenters. Jaywalker was a co-sponsor of the conference and several staff members enjoyed the weekend of education and fellowship.
I was introduced to Brene Brown about a year ago through her TED talks. I have since read her books, shared her talks and books with family members, and became quite the fan. So, needless to say I was beyond excited to have the opportunity to see her in person. Much to my surprise, I arrived at the hotel at the same time as Brene and was able to introduce myself and express my admiration for the work she does. I arrived early and grabbed a front row seat for her presentation and waited with great anticipation and high expectations. I know, I'm not supposed to have expectations, but it couldn't be helped. Her presentation was incredible, not only is her message inspirational but her delivery is authentic and honest. She exemplifies the vulnerability she shares about through her self deprecating humor and personal struggles. Brene is an incredible story teller who has a unique ability to connect with her audiences and encourage us all to live and love with our whole hearts.
To see Brene's TED Talk on vulnerability click on this LINK
With Gratitude,
Mark Kloster