Gardening Collaborative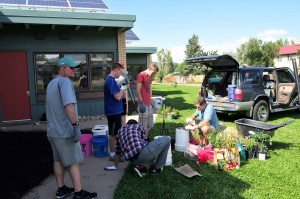 Empowering community through education, sustainable projects, and gardens for hunger relief within our communities.
Kim Willie of Growing Food Forward stated, " Last Thursday volunteers from Jaywalker Lodge, A New Path, and Aspire Women's Recovery did a great job in an hour and a half; hand-tilling the soil, cutting and planting potatoes, and mulching them in with layers of straw and organic compost from Pitkin County Landfill in the three beds behind the Third Street Center in Carbondale, CO."
What a great collaborative effort to do our small part to help bring fresh, local, organic produce to those in need. Kim Willie, and the Growing Food Forward project have planted almost 100 gardens this spring and summer which will help supply our local food pantries like Lift-Up, with healthy, nutritious food.
Our Recovery programs which have the opportunity to be part of this incredible undertaking, also derive a great benefit from these afternoons, "playing in the dirt." Addiction is a selfish disease which erodes and destroys our sense of community and creates loneliness and isolation. These opportunities to work together for the benefit of others, helps to restore our community and giving spirit. In addition, we get to enjoy the sunshine and fellowship in our beautiful mountain town.
Thanks again to Kim and all the great volunteers from Aspire, A New Path, and Jaywalker who continue to, "Grow Food Forward "
With Gratitude,
Mark Kloster