Staying Connected on the Front Range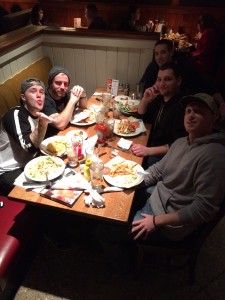 It's an honor to report the 2nd Front Range Alumni event of the year. It was yet again another refreshing get together with the boys. The dinner was filled with over-eating, laughter and catching up. It is amazing that we can all come together and immediately share a common bond of recovery and Jaywalker fellowship regardless of when we went through the Lodge.
Reminiscing over days spent at Jaywalker and in the valley will never get old, new stories and old stories surface and create laughter and joy which is something we re-learned and were given at the Lodge. It's powerful when you take a step back and realize how far each and every individual has come and also thinking of what the future holds for us all. Everyone is beyond stoked that we get to meet up for alumni events and we hope to expand and strengthen our JWL Front Range Alumni chapter. Staying connected reminds us that we come from something great and our support is second to none.
When you are in group therapy at primary care treatment centers they say that only a small amount of people will stay sober for a year and handfuls will die. At Jaywalker we entered into a strong community where we gained recovery and unity and we said fuck you to the statistics and speculations. We are young men living out the promises- we have lives we could have never imagined were possible; growing in wisdom and strength as a result of the 12-steps that Jaywalker pointed us too. Yeah, we are still wild at heart and maybe a little over addictive in our ways but at the end of the day we chose to put our big boy pants on and make grown men decisions which sprung us further than most people will ever go in their entire life. It is all a result of 12-steps in action, growing relationships with our Higher Power, and the Jaywalker brotherhood, which will always be a part of who we are and where we come from.
Aaron Barnholt
JWL Front Range Alumni Group