Front Range Alumni Group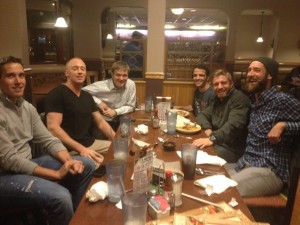 We are becoming the men that we want to become."
The above quote and following blog are a great testament to Jaywalker's programs and the amazing connections and the incredible lives that are possible in long term recovery. Alumni Jordan H. and Aaron B. have organized the front range Alumni group and are planning future events and outings to give our growing number of Alumni in the greater Denver area an opportunity to connect and support one another in recovery. Thanks, Jordan H. for the awesome description of life on the Front Range.
…So a lot had changed. Brian isn't whipping us up a fresh batch of whatever the hell we want when we walk into the lodge. Dan Reed isn't dominating the gym at 4am shoulder pressing a new landing client, Lois isn't blessing me with her sobriety wand telling me how unique and special I am. Food isn't free. We've left the nest.
Some of us live in boulder, some in Denver, some in the suburbs spending our weekends dressed in spandex cycling with a thirty-something year old IT tech who works for a start up in boulder. Some of us spend our days eating gluten free cookies at Whole Foods. Life's changed but we are still laughing, we are still brothers. We are still jaywalkers and despite leaving home base, we are still sober as hell. There is almost 30 years of combined sobriety sitting at that table and every story started with Jaywalker. I would do anything for these guys. That's the brotherhood we were taught to value because we know our lives depend on it.
Okay, so we aren't living in Carbondale, we aren't spending our weekends trolling city market for a girlfriend and we aren't putting in 20 bowl laps a day. Down here, expeditions aren't a real thing. Trust me, I asked my neighbor about the next expedition he's going on. Nobody knows what the F you're talking about.
Here's what we ARE doing: We are attending universities and law schools, we work big boy jobs (yeah like a suit and tie), we are starting music careers, and we are building lives and communities around us. More importantly, we are becoming the men that we want to become.
Jordan H.
Jaywalker Alumnus