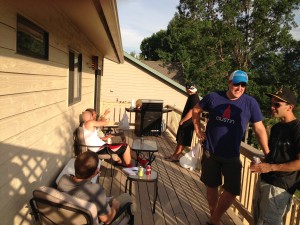 We are going to know a new Freedom and a new Happiness.
Alcoholics Anonymous pg. 83
More than 50 sober friends gathered for a traditional 4th of July Bar-B-Que at one of A New Paths' sober houses this afternoon. Jaywalker alumni, New Path clients, and friends of Bill W. celebrated a Sober Independence Day with Burgers, Brats, fellowship, and fun. The ability to enjoy a Holiday with friends and family without the chains of addiction is an incredible gift of a Life in Recovery. The only choice we had in the depths of our addictions was how and when we were going to get our next drink or our next high. Now, when we make the choice not to drink or use we open up a world of possibilities. Today, we went to parades, listened to live music, mountain biked, went to the movies and enjoyed a BBQ with friends. True Freedom is available to anyone who is willing to work a spiritual program of Recovery.
First of all , we had to quit playing God…Most good ideas are simple, and this concept was the keystone of the new and triumphant arch through which we passed to Freedom.
Alcoholics Anonymous pg. 62
With Gratitude,
Mark Kloster
Alumni Coordinator