Following our passions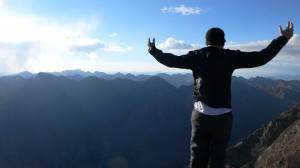 One of the most crucial aspects of recovery is staying engaged and actually living life. We as addicts, myself included, cannot control our use of mind-altering substances; this however doesn't mean we can't thrive and live our lives to the fullest in an environment where drinking and using have become the social norm. I am talking about college. In the midst of the parties, drugs, and alcohol there is an underlying reason (for most) to be attending college. That reason is the idea that they become what they've always wanted to be. To learn about what they're passionate about and pursue a life dealing with that.
For myself, that passion is medicine. And due to my addiction, that dream was never more than fantasized about. My life was unmanageable and as a result I could not attend college successfully and pursue my aspirations. However, today I am two days shy of being sober for eight months. And my recovery happens to include college classes in a college setting here at Jaywalker U where I can follow my passion of medicine, stay sober, and one day be the doctor I have always wanted to be.
Fact of the matter is, there isn't a reason in the world why we as addicts can't succeed in a college environment. And to not have to let that fact deter us from accomplishing what we've always wanted to accomplish on a personal and professional level. We may not be able to use like other people, but we sure can succeed like them.
Eddie A.
Jaywalker U Student