Flying High in Recovery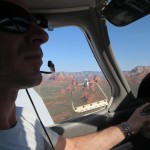 I remember driving the Jaywalker Lodge Sprinter to Sedona in 2013, I had the distinct thought that I didn't want to make that arduous 10 hour drive ever again but instead I wanted to fly to Sedona next time.  My father has been a private pilot for 50 years and I grew up flying planes with him.  I finally decided to get my Private Pilot's license in the fall of 2012.  So when we drove to Sedona last year I was about halfway through the process of getting my license, so I made a commitment to finish that summer and fly to Sedona in 2014.  I completed my training and got my pilots license in the fall of 2013.  My father was very excited.  He had always wanted me to fly, but as we all know, addiction has a tendency to derail the best laid plans.  I have always loved the freedom of being in the air, the ability to go almost wherever you please.  It's very peaceful in the air and a lot of fun to be up there, not to mention that the scenery of Colorado is even more beautiful from the air. So this winter, when we started discussing the 2014 Sedona trip, I declared my intentions to fly there. On the morning of April 17th Donnie Hagenbart and I somehow loaded three mountain bikes, our suitcases, and us into a Piper Archer, a small 4 passenger plane.  We took off and about 3.5 hours later we landed in Sedona.  Much quicker than a 10 hour drive.  My father called me later that day to congratulate me on my first really long cross country flight.  I now see how fun it is to travel the country by air, especially to places like Sedona that private planes can get into while commercial flights cannot.  To do it with other alumni, to go on an alumni expedition makes it that much sweeter.
For all the pictures of the 5th Annual Sedona Mountain Bike Trip please click on the picture above!
Ben M.
Alumni Volunteer