"First Thought Wrong"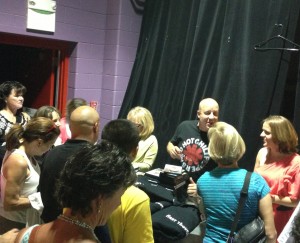 Comedian Mark Lundholm visiting with fans after a full house performance
More than 200 guests came out to see Internationally acclaimed Recovery Comedian Mark Lundholm at Carbondale's PAC3 Theatre Friday night. Mark's performance was made possible by A Way Out, a Roaring Fork Valley nonprofit who's mission is to provide assessment, counseling, and scholarships to those suffering from addictions to alcohol and drugs. Mr. Lundholm was the keynote speaker at a fundraising and awareness dinner Thursday night in Aspen as well. Mark also made a visit to Jaywalker Lodge friday to share his experience, strength, and hope with the men in Jaywalker's extended care treatment facility. Mark spoke directly and passionately about addiction and how it has shaped him as a man, a father, and a person in recovery.
"First thought Wrong" was a phrase I heard early and often in early recovery. Addicts and alcoholics tend to speak impulsively and act compulsively. Mark says "Recovery has taught me that first thought wrong properly filtered becomes next right thing" Recovery is not the absence of bad thinking, its the ability to navigate through it with grace by using the tools we have learned in our recovery program. "First thought wrong is my disease, it's not my future"
Lundholm is adamant about the fact that humor is mandatory and essential for Recovery. Humor can lessen threats and invites truth without shame. "God gave us a humor muscle," says Lundholm. "You were given a humor muscle from birth. It was given to you first and it should be used most often!" Mark asserts that "God gave us that humor muscle to point out where we are fractured." Although the "Normal People" may not had got all his jokes, Mark had everyone rolling in the aisles with his "PG 35" show last night.
With Gratitude,
Mark Kloster
Alumni coordinator