Emotional Health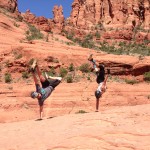 Emotional health can lead to success in work, relationships, and health. In the past, researchers believed that success made people happy. Newer research reveals that it's the other way around. Happy people are more likely to work toward goals, find the resources they need and attract others with their energy and optimism. In the newest issue of Psychology Today (December 2013) published an article, written by Guy Winch, Ph.D, about how to be emotionally healthy.  He suggests the following:
Fail Successfully:  Ignore the gut reaction to demoralize yourself and lose motivation.  Make a list of things that are in your control.
Find Meaning in Loss:  Reflect on finding meaning in your experiences and purpose.
Stop Brooding: Don't ruminate over depressing events.  Distract yourself with something you enjoy.
Nurture Self-Esteem:  Do something for others and you will probably feel better about yourself.
Revive Self-Worth: Make a list of your positive qualities.  Better yet, have a friend do it for you.
Combat Loneliness:  Loneliness can be devastating; instead of thinking about why you don't want to socialize, think about the people you like to spend time with, and do so.
Absolve Yourself: This is another way of saying "forgive yourself."  If needed, apologize to a person you have harmed.  You will no doubt feel better.
Janet DeMars
Program Director
Jaywalker U