Creative Awakenings at Jaywalker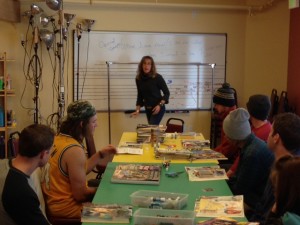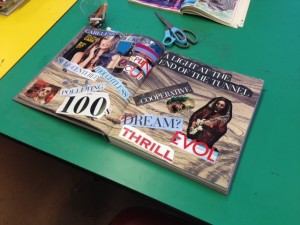 Life is a journey…What is calling You ?
Sheri Gaynor, LCSW
Several clients from Jaywalker Lodge and the Solutions program had the opportunity to engage in some Art Therapy at the Third Street Center this morning. The men cut words and photos out of magazines and made some amazing collages. They were also given some prompts to help with journaling. The class was taught by internationally know artist Sheri Gaynor, LCSW. Sheri is an Expressive Arts Therapist, a licensed psychotherapist, and a professional life coach. She has also published her first book, Creative Awakenings:Envisioning the life of your dreams through art. Sheri has dedicated her life to helping others find their authentic selves and reach for their deepest dreams.
Art therapy provides a break from the regular talk-out-our-feelings therapy sessions and allows clients the opportunity to express their creativity through hands-on activities. Expressive Art Therapy is a powerful method for communicating emotions and getting in touch with the inner self, and even with a higher power. Art provides a form of expression for feelings that cannot be easily identified or put into words. Expressive therapies can help raise self-esteem and provide an opportunity to create new beneficial experiences, as well as the ability to relax without drugs or alcohol.
Today's art therapy provided our men a safe environment to become more open about their emotions which is an imperative step in moving forward in recovery. Through self-discovery and creative expression our men were able to experience personal fulfillment, empowerment, and relaxation and stress relief. By engaging in the creative process through Expressive Art Therapy our men have another tool to help them discover their authentic selves and perhaps discover a new path filled with truth and passion.
To learn more About Sheri and her amazing work please click here.
With Gratitude,
Mark Kloster
Alumni Coordinator