Continuing to Walk the Steps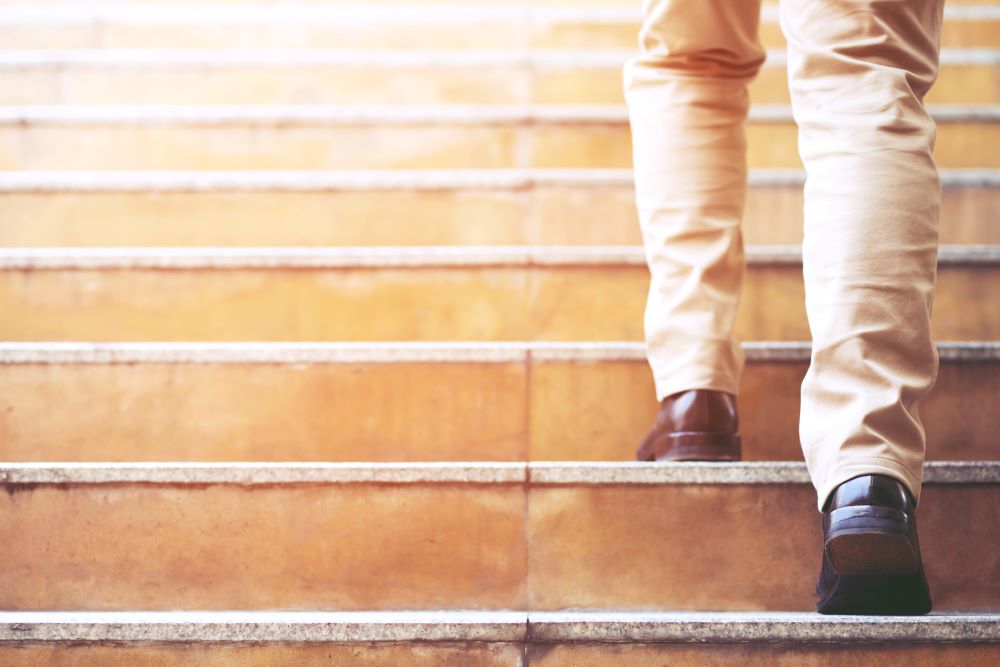 So many of us who enter recovery at Jaywalker Lodge don't know what to expect. We only know we want freedom from our disease. We can find that freedom in recovery, in addition to so much more than we could have ever imagined.
Sometimes, however, we may see entering a sober facility as a break from our lives – and once we leave that place we intend to return back to them. It might be helpful to reframe this common viewpoint of entering recovery. Seeking proper help for our alcoholism and addiction isn't a break from our lives – not at all. It is a chance to finally start our lives and leave behind the life our disease forced upon us. When we leave the safe place where we sought and received help, it is almost like a rebirth. It is a fresh start, and a continuance of the life we have begun in recovery.
A New World
This slight shift in how we think of recovery and guided help can assist us in avoiding all sorts of pitfalls. We are less likely to want to pick up old behaviors and patterns.
We are less excited to "return" to our lives before recovery because that life was dominated by our disease. Our new life in recovery belongs to our higher power and the people we get to serve, and it is ours to enjoy and experience. Leaving the safe place where we sought out recovery and built our foundation isn't a return to the world – it is our first physical steps into a world we've never known before.
This new life of recovery gives us a world where we are free to be accepted, happy, embrace growth, and walk with our higher power and fellow human beings in love and service.
A new world doesn't sound so scary when we realize all that it's made of. Nor does returning to our old life sound so good when we compare and contrast how we were living before our new life of recovery. This is why it can be good to take our time at Jaywalker Lodge as we enter recovery, to get better acquainted with our new footing and outlook.
As we do inevitably leave the safety and shelter of that magical place where our journey in sobriety began, we find the world not so unsafe as we remember. For now, we have regular meetings to attend, a whole community of sober friends, and plenty of 12-Step work to do. We find our life in recovery is as safe and sheltered as any place could be – as long as we stay close, stay honest, seek our higher power, and work the 12-Steps.
What makes the journey of recovery feel "new" is when we don't go back to our old ways and we restart our life with new ways to live. More often than not, we find them infinitely rewarding and beautiful. Indeed, the Big Book says that we can come to "know happiness, peace, and usefulness, in a way of life that is incredibly more wonderful as time passes." It is a new way of life, but how wonderful a way it truly is.
Practice Makes Perfect
As with anything that is new it takes practice, patience, persistence, and some effort on our part. Many in recovery come to find that our higher power does most of the heavy lifting, as long as we remain working the 12-Steps. Like any new skill that we learn, we must take the time to practice this new way of life. There may be frequent 12-Step writing about the mistakes we have made or the times we have fallen short, but each of these is a learning opportunity. This provides us with a gentle chance to learn, grow, and better suit ourselves to serve our higher power and our fellow man. There are no failures along the road of recovery, as long as we cling to the 12-Steps and receive our daily reprieve from alcoholism and addiction.
Enjoy the Journey
Walking the 12-Steps is a journey that we can continue on our whole lives. It never runs out of things to teach us or show us. It never stops helping us grow and learn. It never runs out of ways for us to increase the fullness and usefulness of our lives through service and kindness.
How wonderful a road it is whose joys and benefits never run out, so long as we keep our feet moving. There are always new people to meet and new ways to help them.
There are always more ways we can grow closer to our higher power and the people in our lives. There will always be new adventures, and probably new hurdles, too – both of which we can meet with peace and clear-mindedness as we stay close to our higher power and the 12-Steps.
Continuing on the road of recovery is not simply a necessity. There are no "musts." It is also not a punishment or a penance – it is a gift. When our vision clears, we can finally see this precious point.
Abandoning our old lives is not a harsh sentence or karmic justice, it is grace in its most brilliant form. We are encouraged to embrace a beautiful, full life and step thankfully into the fullness of who we were meant to be. We need only to keep stepping.
What's more, we never have to take those bold steps alone – nor would we really want to, once we have felt the road of recovery underneath our feet and the strides of our sober community beside us.
If you or someone you care about is struggling to keep walking the path of recovery, or is ready to begin, Jaywalker Lodge can guide you on this beautiful road. We have the programs and expertise to help you through every step of your journey. Call us now at (866) 529-9255.