Congratulations Rocky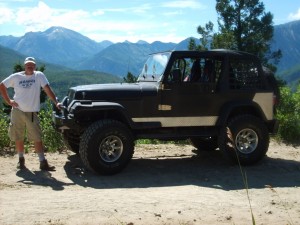 Rocky Willcuts………where to start?  Maybe with his amazing homemade cheesecakes??  OR his stained glass??  OR his ability to fix any and everything??  Rocky is one if the hardest working, kind, caring hard-headed individuals I have had the pleasure to meet and work with.  If you need something done right and done now, not yesterday, Rocky is your man!
Clark(previous Chef) had warned me about this "Rocky" and I thought to myself after working under many strict, borderline mentally insane chefs, how bad could he be?  Well it turns out Rocky is a big puppy dog, willing to help any and all that are willing to listen and take direction from this wise retired marine.  When I first met Rocky he was using his tool-belt to hold his liters of Mountain Dew, bit of an exaggeration but looking back may have been a good idea;)  Rocky puts in long days during the week and is on-call during the weekends, frequenting the Lodge on Saturday if Internet goes down, pipes burst, or when Ping-Pong paddles mysteriously get lodged in the drywall.  All is done with absolute PRIDE.
Congratulations on 9 years buddy!!!
Chef Brian