Congratulations Pat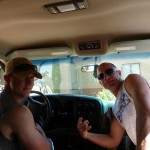 I remember meeting Pat Shaffer not long after I checked into Jaywalker Lodge in April 2010.  He was volunteering regularly and we both liked to mountain bike. I got to know Pat well on our Monday outings and expeditions.  I specifically remember being on expedition in Twin Lakes, sick with a bad cold, and dealing with a wife who wanted a divorce.  While I was having a really tough time Pat sat with me, we talked about our experiences, and I started to pull myself together a little bit.  No other alum was as helpful to me during this really tough period in my life.  Later in my stay at the Lodge I was frequently invited to Pat's house to watch the NHL playoffs, and with counselor approval, I went and watched several games there.  It was a great way to start to feel normal again.  I looked at Pat as an example of the type of man I wanted to become in recovery, someone who had his life together.
In his recovery Pat has become and EMT and worked with the Carbondale Fire Department.  In 2011 he began working for Jaywalker as the first Solutions tech.  He has continued his rise and through hard work is now the Director of Admissions for Jaywalker Lodge.
On July 5th Pat celebrated five years sober. July will always be a special month for Pat because he is getting married on the 26th.  I can't wait to celebrate his wedding with him and I feel lucky to call him my friend.
Happy Birthday Pat!
Ben M.
Alumni Volunteer