Congratulations John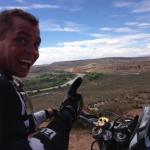 Jaywalker would like to congratulate marketing director and Jaywalker alum, John S, on celebrating 5 years of sobriety last week. John came to Jaywalker 5 years ago badly beaten and ready for a change. He decided for the first time that he was going to get out of his own way and start taking some direction. After a year of following direction, working a strong program, and volunteering for Jaywalker, John was hired as the alumni coordinator, where we first met.
At first it was safe to say we didn't get along. I was the brilliant, humble, quiet guy from Chicago and he was the typical loud mouth, know it all from the Jersey Shore, well so he wished. But after countless mountain bike trips and AA meetings he became someone that I truly looked up to. For the first time in my life I was looking up to someone for the right reasons. He had fun, he was successful, and he actively worked the steps. The perfect example of what a Jaywalker does.
From that day forward I started to take direction from guys like John and one day hope to have the impact on someone like John impacted me. John has been a great friend to me and countless others and has touched the lives of almost everyone in this Valley. Congratulations John and thank you for always being there.
Donnie Hagenbart
Program Coordinator
Jaywalker U