Congrats Brendon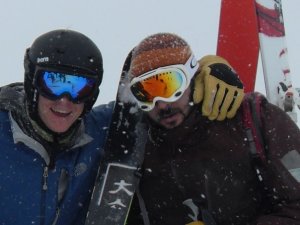 I vividly remember the first time I had ever had the pleasure of meeting Brendon, or what I would consider a quasi-form of him at the time. It was on the Medical/Detox Unit of Hazelden in Center City, MN. I had just finished 30 days of primary treatment on the Silkworth Unit and had to go through my discharge schema, which included picking up a myriad of prescriptions that I had acquired over my time at Hazelden. While waiting for the pleasant nurses to put together my Zip-Loc bag filled with my magic placebos, I decided I would smoke my 5th cigarette of the day by 8 AM. While attempting to spread my vast knowledge of recovery to the Librium infused detox patients on Ignatia, Brendon being one of them, I heard a loud obnoxious man call out to me "Hey, where ya from?", although it was loud and obnoxious, it brought immediate comfort to me because it was in a dialect that I was familiar with. Brendon and I shot the breeze and blew smoke in each other's faces for several minutes while talking about places we both knew in and around Boston, at which time I explained to him my after care plan for Jaywalker Lodge, little of which I think he comprehended, let alone absorbed. The conversation was cut short by the pleasant nurses on Ignatia telling me my stuff was ready. Somehow I knew at the time that my meeting with Brendon on Ignatia would not be our last.
Fast forward 5 months, and 3 states west, I had just finished my treatment at Jaywalker and while coming back to visit and say hello to everyone I walked into the side entry way, I looked up the stairs to the client lounge, and guess who is coming down the stairway, Jaywalker's newest patient Brendon Kerton. I immediately recognized him, and he looked at me as if he had seen me before as well, but didn't know if it was during his frat-party days at the University of Utah. Again, we reconnected as I explained to Brendon how Jaywalker was a life-changing experience for me. After Brendon completed Jaywalker, we moved in together, and became friends in both recovery and our love for the mountains, specifically sliding down them on skis. Since then our friendship, though going through its own trials, has blossomed into something that I admire and respect, and truthfully would not know what I would do without.
I am amazed at how far Brendon has come in all areas of his life. He is an incredible friend, counselor, husband, father, son, brother, and athlete, just to name a few. During both the difficult and joyful times of my life, Brendon has always been there to offer whatever support I needed at the time. Both encouraging me to move in the direction I am going or pointing out how ridiculous my thinking can become, and that to me is a good friend, someone who is able to tell you the truth. I have had the pleasure of listening to Brendon while he is speaking with his family, his mother particularly, and I am amazed at the amount of respect and love that he shows towards her. To me this is a sign of true recovery, treating the people we once unknowingly harmed due to our selfishness, with the true respect and love that they deserve, and Brendon does just that. Brendon is a very well rounded counselor. He has the ability to encourage clients who are struggling, but at the same time is able to create boundaries and roadblocks for clients who need some extra "push" in the right direction, but his ability to know when which is needed is what truly makes him an effective counselor. I have been witness to his love for his wife Tracy and their children. Whenever he speaks of his family I can feel the gratitude he has for them in his words. They mean everything to him. Also I need to mention that Brendon is an Ironman Triathlete, but besides the Ironman backpack, hat, t-shirt, visor, sweatpants, and water bottle that he sports around, you would never know. He is very humble when speaking of his athletic endeavors. There have been days when he has shown up for work at 8 AM and has already ran 20 miles, and unless you asked you would never have known. But when Brendon is asked about his training for his triathlons, he becomes very proud, as he should be. The amount of grind that goes into preparing oneself for something like that is not even in my comprehension. The everyday preparation needed for something like that can only be understood by a true grinder, someone who has the inner drive and commitment of a person who has no quit, no matter what.
All in all Brendon I am so proud to call you my friend, as I'm sure that everyone who knows you is. I thank you for all you have done for me, and I don't know where I would be with you. Thank you and Congratulations on being in Recovery for 7 years!!! Keep Hustling and keep Grinding!
Dave Santini