Community Collaborative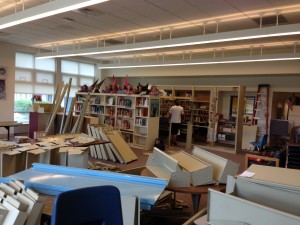 Our real purpose is to fit ourselves to be of maximum service to God and the people about us." Alcoholics Anonymous Big Book pg. 77
Service work has been paramount to the quality of my Recovery. It was suggested early and often in my 12 Step program that the best way to stay out of my own head was to be of service to others. Today, I have the opportunity to not only be of service to AA and fellow alcoholics but to also " practice these principles in all my affairs."I am grateful that the responsibilities of my job allow my fellow Jaywalkers and myself the opportunity to volunteer in the larger Carbondale Community.
Over the last several weeks we had the opportunity to work on a multi-agency service project. We began by disassembling all the shelving in the former Garfield County Carbondale branch library to make room for the new James Surls Community Art museum. All of this shelving was then transported to the Carbondale Middle School library. Unfortunately, when we were tearing down the old shelving we weren't aware that it was going to be reassembled at the middle school, so no one payed attention to how the shelving was assembled ! Of course our next project was to reassemble the shelving in the Middle School Library. Needless to say, it took a fair amount of trial and error and teamwork to figure out how the shelving went back together. We came to the conclusion that our combined experience with erector sets and legos was key to our successful reassembly. Did I mention that the old shelving had to be disassembled at the middle school as well ? All total I calculated that the project took just under 100 man hours to complete!
The project team consisted of a cross section of Jaywalkers. Donnie H. and the "U" crew were crucial in all phases of the project. The Jaywalker Sober House guys and Intensive Out Patient men were indispensable. The Jaywalker Alumni ( The J-Crew) was always willing and more than able to do whatever was needed to complete the project. Talk about a Win-win-win collaborative outcome. We were able to be of assistance to two of our best community assets, The Carbondale Library and the Carbondale Middle School library. Incidentally, we had the opportunity to make new friends and deepen our relationships with each other.
Also, many thanks to Mollie Honan , branch manager of the spectacular new Carbondale Library and Lorri Knaus, librarian at Carbondale Middle School who worked side by side with us to enhance our wonderful community. Finally, Thanks again to all the dedicated Jaywalker men who worked together to make this happen. Service truly does keep us sober.
With Gratitude,
Mark Kloster
Alumni Coordinator