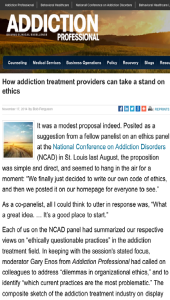 Jaywalker Founder and CEO Bob Ferguson recently served as a panelist at the National Conference on Addiction Disorders (NCAD) in St. Louis.  Following the August conference, and acting on a suggestion from a fellow panelist, Ferguson drafted Jaywalker's first code of ethics.
As the current chair for the Ethics committee of The National Association of Addiction Treatment Providers (NAATP), Ferguson was asked a to write a guest commentary about the ethics panel for Addiction Professional Magazine. 
The article outlines some of the ethical issues challenges facing the addiction treatment industry today, and encourages other treatment providers to draft their own ethics code and post it on their websites. "The idea is for each treatment program to articulate its own ethical values; and for each of us to hold ourselves accountable to their own code of ethics," says Ferguson. "Until each of us becomes transparent and accountable, the ethics conversation is more about finger-pointing and less about values and principles."
For a look at Jaywalker's Code of Ethics, please click here and to see Bob's article in the Addiction Professional Magazine click the photo above!
Donnie Hagenbart
Program Coordinator
Jaywalker U