Chef Brian has a Boy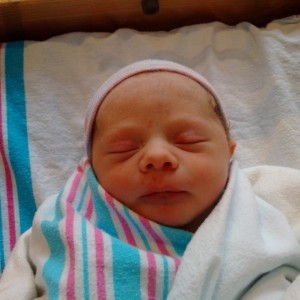 "Snips and Snails and Puppy Dog Tails… That's what little boys are made of!"
Vincent Joseph Trom made his much anticipated arrival on Saturday, January 16th at 12:30 p.m. He weighed in at a very healthy 6.9 lbs. and was 19 inches long. Vincent is the first born of our wonderful Chef, Brian Trom and his lovely wife Shiloh.
For any of us that have been blessed with children, we know what a miracle childbirth is. Words can simply not describe the incredible joy, the swelling of your heart  and the overwhelming love you feel  as your child comes into this world. They immediately turn life as you know it upside down. They steal your heart, they steal your sleep, they steal your time, they steal whatever selfishness you may have possessed and they become the center of your world…and rightfully so. The sleeplessness will pass, replaced with giggles and smiles that will melt your heart even more, but forever your lives will be better because of Vincent.
So take pictures, sleep when you can, don't worry about the house, take videos, write notes on his activity and growth, gaze at him while he sleeps, hold him just because you can, take more pictures and store the memories. Cherish it all, because before you know it the next stage will be upon you. With first teeth, puppy dogs, crawling, child proof latches, walking and then running, toy cars, balls, messes, frogs in his pocket, mischief, mud, climbing and knowing Brian, more cars. And through it all, your love and pride will continue to grow.
Brian and Shiloh, we congratulate you on your beautiful little boy, on the love that started it and your new little family.
Love, Penny