"Bro"dona 2014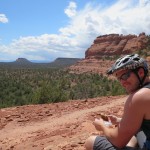 I moved to California about 6 months ago to be with my beautiful girlfriend and continue my career in the recovery industry.  About two weeks prior to my departure from Carbondale, my father died.  The support I received from my fellows in Carbondale was unparalleled.  I had gone on the Sedona trip last year and I told my friends that I would see them then.  For those 6 months, I biked in the hills of Laguna Beach, CA dreaming about being with my friends again.  Mountain biking and fellowship, among other things, helped pull me out of the fog of grief from losing my father.  Now I am here in Sedona, catching up, hearing about all the positive things that are going on in each of their lives, and telling them how wonderful my life is with my amazing girlfriend.  I think the icing on the cake has been the many "kudos" from the guys about how good I have improved at mountain biking.
This trip has been incredible.  The trails have been amazing.  The jokes and shenanigans have been hilarious.  But, what I have treasured most, has been the reunion of my brothers in recovery.  They are doing for me what I could not do for myself.
I love my friends here in this house.  They have taught me so many things.  They taught me how to work a 12 step program, they taught me how to have integrity in my career, they taught me how to have a healthy relationship with my girlfriend, but most of all, they have taught me how to be a man.
Brian Greenwald
Jaywalker Alum