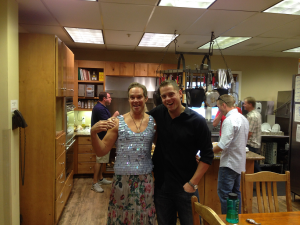 The 7th Annual Jaywalker Serenity Scramble was a great success!  Thanks to Kortney Hartman, the sponsors, players, and everyone who made it possible.  All good charity golf tournaments have plenty of winners and no losers, however, at this year's tournament one loser stood out, in a sun dress.
Now, let me explain. The Serenity Scramble is a big deal and no one takes it more seriously than Jaywalker Lodge's Director of Marketing, John Schneier. This would be a surprise to all because he has a handicap of 74…on the front nine. What John lacks in skill he makes up for in monetary incentives to local professional golfers: Stanley Jones, Briton Bingham, and AJ Joiner. With this all-star line-up, John challenged Bob Ferguson, Founder/Director/Cross-Dresser and his team of washed up lacrosse players to a friendly "Loser-wears-a-sundress-to-community-meeting" wager.
In a week no one will remember who won the Serenity Scramble but Bobby's sundress will live on forever!
Donnie Hagenbart
Program Coordinator
Jaywalker U