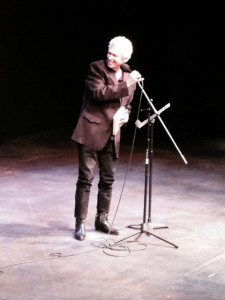 I am still in awe of the inspiration that comes from the origin of Karen's belief that everyone's voice should and must be heard."
Valerie Haugen. associate artistic director, TRTC
This weekend, Thunder River Theatre Company is hosting the forth annual Karen Chamberlain Poetry festival here in Carbondale. The Poetry festival was created to honor the inspiring life of Karen Chamberlain, who passed away in September 2010. The theme of this years installment is " Beneath the Surface." Valerie Haugen said the notion of encouragement was the inspiration and recurring theme of this years poetry festival which features workshops, open mics and live music.
I had the opportunity to attend last night's featured poets and open mic with friends, clients, and alumni. Many of the poets spoke of love, loss, redemption, and hope. Without the encouragement and inspiration of loved ones, counselors, and other addicts I would have never found the freedom, serenity, and unconditional love which life in long term recovery has given me. I will be forever grateful for those who knew, even when I didn't, that there was something "just beneath the surface" that needed encouragement and support to avail itself.
Speaking of encouragement and inspiration, our own Senior counselor, Kim Nuzzo, was the MC of last nights open mic which featured alumni Pat C, and his always witty and thoughtful spoken word. Kim is the kind of person who, through his encouragement and example, inspire us to dig a little deeper and step out of our comfort zones and become the kind of person we only dreamed about. Kim, Jaywalker, and this wonderful community have inspired me to try new things and have the courage to continue peel back the layers and find the authentic lovable self in each and every one of us. Poetry, Art, Music, and all things creative are now possible in a life free from the chains of addiction.
The Festivals featured poets and open mic will take place again this evening beginning at 7 PM. Please visit Thunder River Theatre Company for tickets and more information.
With Gratitude,
Mark Kloster