ASPENSTRONG – Hike.Hope.Heal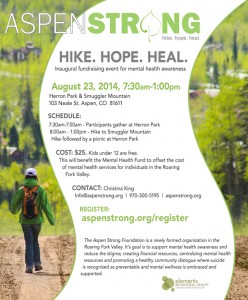 Our community is always promoting strength in physical health. It is time we recognize the need to promote strength in Mental Health !"
The Aspen Strong Foundation was founded in February of 2014 by Christina M. King, a licensed professional counselor practicing in Aspen, Colorado, as a response to the startling fact that in 2014, Pitkin County's suicide rate is three times the national rate and Pitkin County has ranked mental health and substance abuse the top issue that had the greatest impact on health. Although The Aspen Strong Foundation was initially organized as a hike to support those suffering from mental illness, with the support of the community and the founder of the Mental Health Fund, Lawrence Altman, it has blossomed into The Aspen Strong Foundation, an organization connecting the Roaring Fork Valley's mental health services and consumers.
Aspen Strong's first event in bringing awareness will take place this Saturday, August, 23 and is called Hike. Hope. Heal. Participants will hike Smuggler Mountain, then picnic at Herron Park where there will be an opportunity to ask and answer questions about mental health. This hike and the Aspen Strong Foundation's goal is to support mental health awareness and reduce the stigma; creating financial resources and promoting a healthy community dialogue where suicide is recognized as preventable and mental wellness is embraced and supported.
Registration for the event is only $ 25 and children under 12 are free. Although there will be day of event registration, it is recommended that you please register early. Please click on the following link to register online: AspenStrong.org/register
Jaywalker Alumni, staff, and clients will be volunteering by assisting with set-up, clean-up and course monitoring. Please contact me directly if you would like to volunteer for this valuable event.
With Gratitude,
Mark Kloster
Alumni Coordinator
mkloster@jaywalkerlodge.com
(512)413-1350