The Anonymous People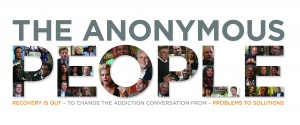 The Anonymous People shines a light on the personal and societal value of recovery through the moving stories of people who are public about what their lives are like now that they're no longer using alcohol or other drugs."
The Anonymous People is a feature documentary film about the over 23 million Americans living in long-term recovery from alcohol and drug addiction. Deeply entrenched societal stigma and discrimination have kept recovery voices silent and faces hidden for decades. The fact that addiction is a preventable and treatable condition and not a moral weakness is lost in the mass medias uninformed depiction of addiction.
Courageous addiction recovery advocates have come out of the shadows and a grass roots social justice movement is emerging. This passionate new public recovery movement is fueling a conversation that aims to transform public opinion, and finally shift problematic policy toward lasting recovery solutions. The disease of addiction deserves empathy and treatment not disgust and prison sentences.
There is a great need to educate, motivate, and engage our families, friends, and communities about the reality of recovery and how we can get people the help they need to recover. We need your help to bring this game-changing film to the Roaring Fork Valley. The film is being distributed by the crowd-sourcing theatrical On-Demand firm Gathr. We need 100 reservations ($ 10 each) to ensure the film will play in Carbondale on October 24. Please click on this link to reserve your tickets. We are well over half-way there with 60 reservations thus far.
We Do Recover !
Mark Kloster
Alumni Coordinator